Take your Japanese from ZERO to proficient with this single, monstrous Japanese course.
The Hacking Japanese Supercourse (HJS) is a collection of courses covering basic, intermediate, and advanced Japanese.
In 1,000+ lessons, we explore the ins and outs of Japanese (e.g. grammar, natural phrasing, etc.), along with the most effective approaches to learning this fascinating language as quickly as possible.
By making your way through the 10,000+ Japanese sentences appearing in HJS sub-courses — reading word-by-word breakdowns; studying flashcards; listening to native audio for everything; practicing pronunciation; etc. — you are sure to become highly proficient in Japanese.
Niko (NihongoShark's founder) started learning Japanese way back in 2008... and it was a disaster. After a year or so of feeling he was getting nowhere, he quit. Failure.
In late 2012, he reworked his approach to Japanese and he found a system that worked for him. He wrote a blog called NihongoShark to explain how it worked. Within two years of using this new system he had passed the JLPT N1 and landed his first major translation job.
Eventually, he got good enough at Japanese to start providing the lessons he'd always wanted (with the help of some amazing native speakers, of course). Before he knew it, NihongoShark was no longer a blog. He and his team of educators had built a one-stop shop for learning Japanese. They had built the Hacking Japanese Supercourse.
HJS is not for people who just want to pick up a little bit of Japanese before a trip to Japan. We are looking for the students who have a burning desire to get very, very good at Japanese.
In other words, HJS is for serious students. It is for the people that want to become translators, watch anime without subtitles, read light novels in their original Japanese, or just build a life in Japan or surrounded by Japanese speakers.
If you are ready to commit to such an undertaking, then we would consider it a great privilege to guide you on your path to Japanese mastery.
I just couldn't stop myself from writing you an email saying how incredibly useful your course is.


As a person who is very self-motivated, I was sure that I could figure out how to teach myself Japanese on my own. And sure, I probably could have. But my research was so overwhelming...and it is so difficult to find reviews of Japanese programs that are both honest and seem to fit with my learning style, that I was feeling like I was drowning in an ocean of information.


Your course has been a life-saver. I feel sure that I will be successful following your system.


Thank you very much! And best of luck to you in the future! I will be spreading the word."


- Lisa M.
"Hey Niko,


Finally, I have finished your Supercourse. Here are my impressions:


This course is fully worth the price you're asking for it, and then some.


The way you hold the hand of the language learner in all aspects of studying, all the numerous useful references, and of course the actual ideological framework of the course itself, are terrific.


Everything one needs to learn Japanese efficiently is here. One just has to walk the path laid out in front of him. Even for the more adventurous types seeking their own personalized ways to learn the language.


The 'and then some' part comes in the form of the general light and humorous tone of the guide, which really made reading it easy. I LOL'd in some parts man, seriously.


Your guide has further confirmed that I wanna follow your methods, with some little tweaks to suit some personal preferences. Mostly just in the materials I will study, really. This guide was heaps awesome, and I'll put it to good use.


Cheers."


- Michael B.
"I started off my Japanese studies with the Hacking Japanese Supercourse. It was my only starting resource, and it dispelled all the fears I had about learning the language. Two and a half years later, I passed the N2. I couldn't be more grateful for Nihongoshark, and couldn't recommend it enough."
- Tyler K.
Journey to the Dōjō
Learn to read Kana (=the Japanese "alphabet")
Learn all the basics of Japanese grammar
Start having our first Japanese conversations
Master the Arts
Learn all 2,200 standard-use Kanji
Learn 2,000 must-know vocabulary words
Power through beginner grammar
Defeat the Monsters
Tackle intermediate grammar
Dive into everyday, casually spoken Japanese
Follow Your Destiny
Learn advanced grammar patterns
Live fully in Japanese
I just wanted to let you know that I've been studying Japanese for nearly a decade and have been living in Japan for 3 years of that time, so I'm mostly going through the Bunkai Beast as a refresher course. I work mostly with women and small children (I teach at a preschool), so I've heard "の" used at the end of a lot of sentences, but I always knew something was missing in my knowledge since I thought it was just a cute way to ask questions but Japanese people always seemed to struggle to explain it to me.
I actually went through this lesson [on の] a few days back and was like, "Oh wow, that's super useful! I thought it was just baby-talk stuff and that's why people had trouble explaining it" but now I've been through a few classes with this knowledge and I'm just back to report that the lessons on "の" have made my understanding of what's going on around me SO much easier. It's like whole new doors have been opened.
It's also helped me understand more how to use "んです" because I knew it was used in Japanese, but I felt like I never ran into it or what I was told was the catch-all casual version ("んだ"). Which, now that it has been explained to me, is probably because my coworkers are almost entirely female and we all speak pretty casually to each other (the only people who speak formally to me usually speak in English rather than Japanese).
I'm already looking forward to the rest of what you have to teach me.
So yeah, just wanted to say, "Thank you". Like, really actually super-seriously THANK YOU though.
- Kristen S.
HJS Study System
Why it's effective / what's on the inside.
What exactly will I learn in the Hacking Japanese Supercourse?
So Many Japanese Courses
Over 1,000 in-depth Japanese lessons.
10,000+ Japanese sentences written by native speakers, most of which are broken down in lessons and also provided in flashcards with built-in audio.
Thousands of audio loops for studying on the go and pronunciation perfection.
Here's a closer look at some of these courses...
HJS Core
This course will help you navigate your ascent to Japanese proficiency. It explains how to get Japanese into your head and how interact with the gargantuan amount of learning materials at your disposal as an HJS student.
I cannot thank you enough for this amazing material! You and your team have done a really great job. You know, I was really surprised today when I could read a whole news article in Japanese without any problem! I've also told my friends about your website and resources. Two of them have subscribed. Thanks again for bringing fun to learning Japanese and for helping me keep on swimming :-)
Harshal
Hi Niko. Just want to let you know that your site by far is the best place to go for advanced learners that I've seen so far in my 10 years of studying Japanese. I have tons of respect for your work, honesty and seemingly endless enthusiasm - keep up the good work!
David L.
I have enjoyed learning Japanese through these lessons. They are complex yet easy to understand. They are also very detailed which makes the whole lesson rich and of course helping me to improve my vocabulary.
Sinara
Previous
Next
Kana Mastery
This course teaches you (1) the Japanese "alphabet" (a misnomer, if we're being technical) and (2) accurate pronunciation of the sounds of Japanese.
I spread the word about NihongoShark to everyone I know. I did your free trial and then I purchased your others. You were able to teach me what all the other systems couldn't and I thank you so much! After going through your programs I enrolled in college and am now working towards my major in Linguistics/Japanese with confidence in myself that I never had.
Please know that you changed my view on the language and in doing so, changed my life completely! :]
Skyler R.
I've been reading your lessons for almost a year now and today the nuances stick...I'm no longer trying to always put an English word to every particle, word, or phrase. Its wild to suddenly be able to push past that "literal" conceptual level. Thanks for everything!
Brent
Dang! These are really good.... I have studied Japanese on and off for over 20 years, but I have never seen such a concise, well thought out, easy to follow and relevant lessons with real world examples that can be used daily.
Jim K.
Previous
Next
Bunkai Beast
This course is a surgical breakdown of Japanese sentence patterns. In roughly 100 lessons, we cover quite a bit of introductory grammar, including a ton of stuff you won't learn in a textbook.
I loved the explanation for が. I get my particles mixed up frequently. But the main thing my Japanese boyfriend has told me is that I'm understood when I say simple Japanese sentences even with the wrong particles. So yes stressing about it won't help. And I'm a lot better at Japanese than I was before, and this course should really bring it together. Thank you
Sue
So many language learning materials make language seem more complicated than it needs to be. The thing is that it makes sense to linguists, but not to normal people who just want to use the language in practical applications. I've always felt that overthinking it just makes it harder to learn. Japanese is my third language by the way! That's why I went with NihongoShark, because it's so practical and refreshing. I think this will really help me master the language!
Amber
I'm really enjoying the course, it's brilliant, I love your relaxed and inspirational style of teaching!
Jeremy C.
Previous
Next
Kanji Mastery Course
In this course, we walk you through two viable options for learning the 2,000+ kanji (=Chinese characters) that you must know in order to read Japanese like a native.
This has already been such a huge help, I mean... without you I would never have done (and finished!) the Kanji Challenge - and your decks are amazing! I'm having the time of my life with the Supercourse right now.
Joe R.
I finished the Kanji challenge. It was a slog, especially the last 500 or so, but I did it. I haven't mastered all the meanings, but now, in reviewing, I'm making major progress. Thank you for your organized approach and your step-by-step help. I'd have never made this progress without you. I still have lots of work ahead, but there's real hope. Thanks again for your inspiration and direction.
Janice S.
Hey! Thank you so much!!! I've just finished the 2200 kanji challenge. Keep up the good work!!!! :D
Stefano
Previous
Next
Vocab Mastery Course
This course teaches thousands of Japanese vocabulary in full sentences without ever introducing more than 1 new word at a time. It also includes enough notes on words' nuances to fill a textbook of its own.
I've been working through the Hacking Japanese Supercourse and been finding it very helpful for studying more effectively. I'm just over three years into studying Japanese, and feel like I've been on like a year-and-a-half plateau, lol. Since starting the course, it's the first time in quite awhile where I feel optimistic about making progress: not only does your methodology inspire confidence, but your motivational and growth-perspective stuff has been very helpful in reframing how I'm approaching learning Japanese. Keep up the great work, it's appreciated!
Max
Previous
Next
JLPT N5 to N1 Grammar
These 5 courses break down the hundreds and hundreds of sentence patterns you must master to pass various levels of the Japanese Language Proficiency Test (JLPT).
How long will it take to complete all of these courses?
…is a question that we get a lot, and it's a difficult one to answer.
If you start at zero Japanese and study these courses every day, it'll probably take 1-2 years to become OK at Japanese (i.e. complete Phases 1-2) and 3-4 years to become GOOD at Japanese (i.e. complete Phases 1-4).
These numbers vary dramatically based on the person studying and how much time they have available to put in each day.
Rather than worry about how long this journey will take, however, maybe worry about…
Enjoying Your Journey to Japanese Fluency

A message from Niko, the founder of NihongoShark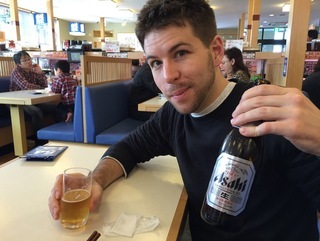 This photo was taken at a restaurant called Hama-zushi in Sapporo, Hokkaido, Japan. It is a photo full of blessings, many of which I never would have received had I not studied Japanese. The person behind the camera is the love of my life, and I never would have met her without Japanese. (She couldn't speak English when we first met.)

I can go to a restaurant like this, and I can interact with the servers, and I can eavesdrop on the tables next to us, and I can read the menu, and I can share precious, fleeting moments with some truly amazing people... because I studied Japanese. And it's such a rewarding feeling.

At the end of the day, a language is nothing more than a tool for us to communicate with the people around us—to learn from them; to exchange thoughts, feelings, hopes, and dreams. This is the tool that I want to help you attain. I am truly passionate about the Japanese language, and I want to help other people to learn it, too. That's the real reason that I started this site all of those years ago.

If you really want to learn Japanese, I guarantee you that you can, even if you can't afford this course. There is no single indispensable tool for learning something as enormous as a language. Anyone who tries to sell you that promise is probably trying to cheat you out of some money. While our system might make your Japanese studies a lot smoother, faster, more effective, and more enjoyable, there are countless people that have learned Japanese without it.

So, hold on to the dream. Just keep swimming, enjoy this fascinating journey, and I'm sure that you'll have your own Hama-zushi experience someday, too.
Hacking Japanese Supercourse
A complete system to take you from zero to proficient.
HJS Premium
20
($240/year)
Everything in HJS Basic, plus…

Toby in Tokyo Video Course

An animated video series that follows a group of friends for a night out at a Japanese izakaya, and all of the Japanese they learn along the way.

All 700+ past NDL's

covering well over 7,000 sample sentences that any native adult speaker of Japanese would be expected to understand.

JLPT N3 Grammar Course

Finish learning the vast majority of grammatical constructions used in spoken Japanese, along with common written forms.

JLPT N2 Grammar Course

Learn the Japanese you need to get a job in a Japanese-speaking environment.

JLPT N1 Grammar Course

Learn the Japanese you need to become a professional translator of Japanese.

Travel Japanese

Pick up some useful language for your next trip around Japan. A laid-back look at some of the travel language that phrasebooks and travel Japanese guides typically miss.

Flashcard Demigod

Utilize little-known technology and tools to make flashcards in various formats using source materials relevant to your interests, such as anime, movies, and blog posts.
Enroll now
HJS Lifetime
999
(one time fee)
Access to ALL NihongoShark Courses

Present and Future Updates and Courses
Enroll now
Frequently Asked Questions
14-Day Money Back Guarantee*
*For annnual subscriptions
No-Questions Asked
If you are not totally satisfied with HJS for any reason at all, then please email our team within 14 days, and we will immediately send you a refund, no questions asked.
If you personally cannot afford to pay for this suite of Japanese-learning courses, don't lose faith! Join our student community and ask us and fellow students about options for learning Japanese on an extremely limited budget.